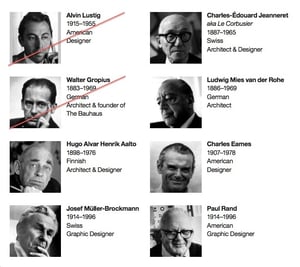 £

0.01
This page is for reference only and not for sale, so please disregard pricing and ordering options. Designs of Lustig and Gropius are currently unavailable.
Paul Rand
1914-1966, American Graphic Designer
Charles-Edouard Jeanneret AKA Le Corbusier
1887-1965, Swiss, Architect
Charles Eames
1907-1978, American, Designer
Joseph Muller-Brockmann
1914-1996, Swiss, Graphic Designer
Ludwig Mies van der Rohe
1886-1969, German, Architect
Alvar Aalto
1898-1976, Finnish, Designer
You can view additional images of the prints at my behance gallery (link will navigate you away from this site).